Ask a sample set of ten kids whether they like History and chances are you will hear a loud big resounding NO!
Sites of historical importance do not elicit much of an enthusiastic response from children and consequently parents travelling with children!
But with a history-buff for a mother, my kids have little choice! So they find themselves in all kinds of places – forts, museums, temples, palaces.
With a Masters Degree in Ancient Indian History and Culture, I do believe I am sufficiently armed with knowledge of Indian History. The next step then is to find ways to make that knowledge relevant and interesting for children.
For starters, I try to get them to see History differently.
Forget the dates. Focus on the stories.
Forget the wars. Focus on the changes that propelled history. (To know more about how History can be made more interesting for kids, click here.)
I find all historical monuments interesting. For they all tell dramatic stories.
Agra is a great place to introduce your children to these stories.
Don't walk through historical monuments like you're walking in a park. Begin by reading about it before you go.
Tell your children intriguing stories instead of narrating the dynasty chronology.
Mughal history is full of dramatic sagas and court intrigue. Find out before you go to make your trip more meaningful. (For my Reading Recommendations for Parents on Mughal History, click here)
Get your children familiar with architecture.
Let them discover the story of India through these monuments. And when they see and learn, they will enjoy and remember.
As you enter the fort, look below the bridge you are crossing. Explain to the children what a moat is.
There are legendary stories of battles where enemy soldiers were dropped into a moat where they were devoured by crocodiles. If your child has the stomach for these stories, maybe you can share some with them.
Jehangir's Bath Tub
After you climb up from the gate and reach the entrance to the Fort, you will find a large stone structure.
Believe it or not – it was Emperor Jehangir's bath tub.
And it was carried along when the Emperor traveled to the battle front or holiday! For the Emperor had to absolutely have his bath in his tub! The children were quite amused to hear that!
Through this piece and story, you can tell them about modes of transport too. How did people transport things in earlier times? How was such a large bath tub taken along everywhere the Emperor went?
Well…several modes existed in those days…boats, pack animals, bullock cart and more. But the right answer for Jehangir's bath tub – is by elephant back!
As you walk around, notice the finer elements.
Think its hard to get children to notice architectural features? Well – get them to get crafty!
Ask your children to make a jali by cutting out pieces of folded paper. They will notice how hard it is to get it perfectly proportional.
Then show them the marble Jali in Mughal structures. Isn't it incredible how these craftsmen crafted this kind of magic out of marble?
All perfectly symmetric. All stunningly beautiful!
They will better appreciate the skills involved and the craftsmanship, if they try their hand at something themselves.
Let them stand and stare. Let them be amazed.
Further inside the Fort, you will see a large black stone slab. It is known as Jehangir Takht. Here's a good spot to introduce some history about power tussles.
Of all the Mughal emperors I find Jehangir the most interesting. (to know more about him, subscribe to the site!).
There was a time when Jehangir rebelled against Emperor Akbar and proclaimed himself King. This is the famous throne on which he is said to have had his crowning ceremony.
On the outside you will see the Deewan-e-Aam was the Durbar – the royal court for general matters.
This is where people could petition the king with their problems. Where the Badshah met with his subjects.
Here is where sat the famous Peacock Throne – the most exquisite of Mughal pieces and upon it sat the Jehapanah.
Nobody could sit in the Emperor's presence and they would all stand and bow before him. Nobody would look into his eyes when he spoke. One had to lower one's gaze. Its all quite dramatic isn't it?
Do some play acting at such places.
Get your child to imagine he/she is the Emperor sitting amidst hundreds of subjects.
Get the children to run their Darbar. Petition them as if they were Emperors and ask for mercy or some solution to a fictitious problem. Let them make some proclamations and declarations! Let them use their creativity to solve the petitioner's problem.
The more absurd they sound, the more fun it will be! In their own way, they will get a sense of what Emperors did back in those days!
If your child is older, you can also tell them stories revolving around military strategies.
Did you know how Aurangzeb got Emperor Shah Jehan to surrender and make himself the King? By cutting off the water supply to the Agra Fort! The final straw in the back, Shah Jehan, the most mighty Mughal, had to give in and crown the son he hated as Emperor.
You may have heard of the famous legend of Shivaji being imprisoned by Aurangzeb and then escaping in a basket of fruits! Well…that drama too unfolded right here in Agra Fort.
Tell them that fascinating story…and believe me it is quite a story!
Much of history is a bunch of stories. You want your child to remember facts about Mughal history and battles – seeing these places and hearing these stories will have them remember and recall better!
Did you know that by a farman (dictat) of Emperor Akbar, Mughal princesses were not allowed to marry! For he did not want progeny from the daughter's side to contest for the throne. Shocking? But true!
Some of the Mughal princesses have had fascinating and deeply tragic stories. Shah Jehan's daughter Jehanara in particular.
Jehanara and Dara – the eldest children of Mumtaz and Shah Jehan's children were the Emperor's favourites. Dara was most refined, soft spoken, learned and tolerent. Jehanara was beautiful and wise. Shah Jehan wanted Dara to become king after him. But two of his other children had other plans.
Roshanara and Aurangzeb hated their popular siblings and plotted against them. Roshanara conspired with Aurangzeb to oust their father's favourties. Dara was assassinated and Aurangzeb became Emperor. Roshanara rose to prominence as Jehanara was reduced to her father's care-taker in his old age.
When you visit the chambers of Jehanara and Roshanara Begum, tell them these stories of court intrigue.
(Btw – Not for the kids but for you – There are also stories of debauchery and clandestine affairs between Shah Jehan and his daugther Jehanara.)
And finally, show your children the view of that beauty – the Taj! This is the view Emperor Shah Jehan had on his death bed as he gazed out at his love when he was imprisoned in the Agra Fort by his son Aurangzeb who wrested the throne from him.
Here is where Emperor Shah Jehan, cruelly dethroned and imprisoned by his son Aurangzeb, spent out his old age. Grieving over the brutal murder of his most beloved son, the eldest of his children, Dara Shikoh, whom he had wanted to make Emperor after him.
Here is where the most powerful man who gave the nation its more glorious monument and symbol spent out his dying days gazing out of this window and watching the beautiful ode in stone to his beloved.
Stand at the window and tell them the story. Let them imagine and feel. How would the old Emperor, the most mighty of emperors, have felt when he was brought down to his knees by his son! Aurangzeb apparently sent Shah Jehan a gift when he was in prison. The decapitated head of his beloved son Dara! You cannot but feel for Shah Jehan.
And focus also on the take away from these stories. History is not just about the information and the stories but also the lessons you can draw from them.
Shah Jehan's story demonstrates like no other that Power is not permanent! It is a lesson that the most powerful emperor too would be made to bite the dust someday.
And by the way…did you know how Shah Jehan came to power? Well, he too was the third son of his father Jehangir (as Aurangzeb was to him) and he too had murdered his brothers to gain the throne! So well…what goes around, comes around!
Children will remember more when they see History through these stories. They may not have the entire sequence and chronology. But that's ok. Let them get a sense for the stories. The serious stuff will follow.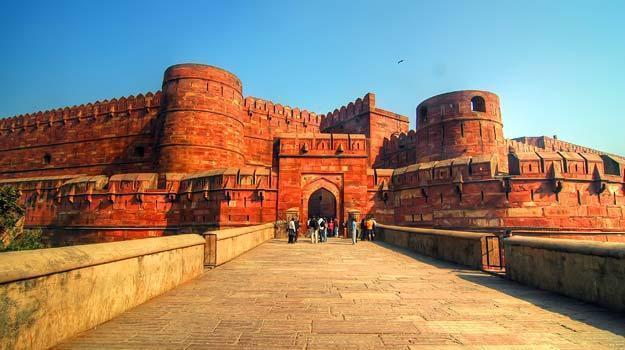 History can be introduced/told to to your children through these brief snippets.
Eliminate dates and specifics. Tell them stories and interesting snippets instead.
You can be sure they will eventually get around to taking an interest in History. For more on How History can be made interesting for Children, click here. For my Reading Recommendations for Parents on Mughal History, click here.
What was the state of my children after they had finished walking through the massive fort and listening to my endless stories? Well…pictures speak a thousand words…so…
Hope my post has inspired you to look at History differently and share stories with your children as you walk around forts and monuments.
If nothing else, you can be sure they'll sleep soundly after the long tiring walk! 😉