Ask your children for names of famous artists.
Leonardo da Vinci. Michelangelo. Picasso. Chances are you'll hear these names in response.
Ask them then for names of Indian artists.
Tagore. Raja Ravi Varma. Hussain. You might hear these names, if at all.
India has had a thriving tradition of art for centuries and yet, isn't it surprising that we struggle to name artists?
Well, perhaps there is a reason.
For the large part, Indian Art was religious. And for the artist, art was a contribution to and connection with the divine. Hence it is that the artist's name hardly ever featured in the works.
So…Indian artists were mostly anonymous!
Yet today, on the International Day of Indigenous People, also celebrated in India as Adivasi Diwas, take some time to tell your child about a talented tribal artist who introduced the world to a wonderful art form.
The artist is Jivha Soma Mashe – known also as the M.F.Husain of Tribal Art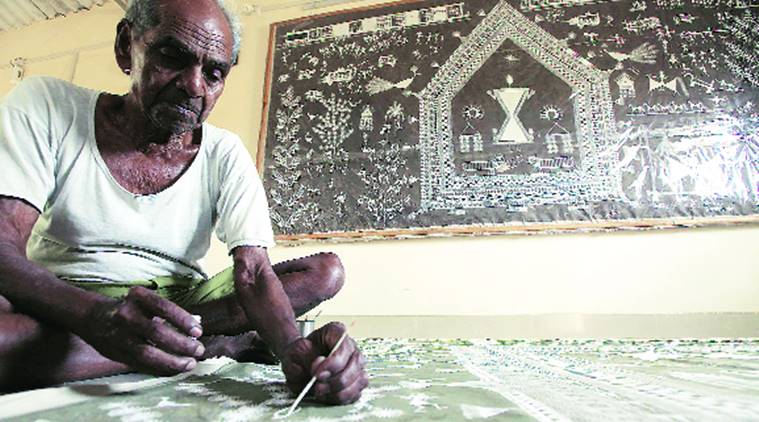 Warli Art
Amongst the various tribal art forms of India, Warli Art is perhaps the most well-known. Surely you have seen these kind of paintings.
The reason this art form is more popular than other tribal art forms of India is this artist who brought if out of tribal homes to art galleries.
From his humble beginnings as a grass-land caretaker, Mashe became a world-famous artist whose paintings adorned the elite art galleries of the world.
Mashe died recently in May 2018 and this is a tribute to his life and work – a story surely worth telling our children.
Art as Expression
Mashe lost his mother at a very young age and the shock forced him into a shell. He stopped speaking and turned to art to express himself.
Usually, Warli art is done almost exclusively by women. It is a ritual art form where the drawings are done for specific rituals and ceremonies.
Mashe broke away from this tradition by painting despite being a man and painting without a ceremony or ritual.
It so happened that in 1975, late eminent artist Bhaskar Kulkarni happened to stumble upon the folk art form of Mashe who was then an overseer of grasslands near Dahanu.
Moved and deeply impressed, Kulkarni convinced the owners of the Chemould Art Gallery in Mumbai to display his works.
His first exhibition at the gallery took place in 1975. Prime Minister Indira Gandhi, Pupul Jaykar and some big names took notice and patronised this budding artist.
International exhibitions and fame soon followed.
The next decade or so saw Warli Art become popular with the urban society in India. People were buying all kinds of things – kurtas, dupattas, bags, pencilcases and so on with warli motifs. It became hugely popular.
But few know this began with Jivya Soma Mashe.
"Mashe is the one who brought Warli out from mud walls to the world"

Sudha Mohan

Artist and Visiting Faculty at Mumbai University
That's the story of how the world awoke to a master tribal artist and a relatively unknown form of Indian folk art!
Who are the Warlis?
While we're at it, why not tell the children some more about the Warlis?
Warlis are an indigenous tribe that live in various parts of western Maharashtra and Gujarat including in Dahanu, Thane, Dhule and Nasik district. They speak in a language the Warli language, which is similar to Marathi/Konkani.
You can find this tribe even in the large metropolis of Mumbai where they live in Gorai, Mud Island, Sanjay Gandhi National Park and Aarey.
They are agricultural people who grow mainly rice and some other crops in small plots of land.
Art Form
The art of the Warlis is simplistic and yet is a world unto itself.
Stick figures, circles, triangles and squares are the main patterns used.
The sun and the moon are represented by circles, the triangle represents mountains and trees, the square represents enclosures for rituals.
No facial features or expressions are shown.
The painting is usually done on mud walls plastered with cowdung.
Paint is made by mixing rice paste with water or milk. Brown and white are the only colours used.
Mashe merged traditional techniques with modern methods by painting with acrylics and cow dung on canvas!
Stories in Art
Most of Warli art narrates stories or conveys something about their way of life.
One will often find a large group dancing in concentric circles around a single musician.
This represents the traditional Tarpa Dance of the Warlis. The concentric circles represent Time, which according to them, is cyclical.
The circles are also said to be symbolic of the womb and the Mother Goddess.
One of the principal goddesses of the Warlis is Palghata, who takes her name from the word Ghata or Pot – as the Goddess associated with Fertility.
No Warli marriage is complete without creating what is known as the Lagnacha chowk, where a painting of the Goddess is created by women artists.
This is a ritualistic painting – not created for entertainment or aesthetic pleasure but for a ritualistic purpose.
I worked with the Warlis of Aarey for a project a while ago. Here are some interesting beliefs I recorded.
The Warlis will make only as many bhakris (bread) as will be eaten. This is because they believe that the bhakri is made by burning flour on the flame.
That's because according to them, the Harvest is Divine. It is represented by Goddess Kansari who is crushed, pounded and burnt to make the bhakri. Hence they do not want to trouble her any more than required. Therefore, they make only as many number of bhakris as will be eaten and not a single more!
When food /fruits accidentally fall on the ground, they do not step on it because it is believed to be Kansari Devi. Fallen food is given to the cattle or the rooster. It is never thrown away.
The rotis/bhakris are cooked on low flame with very careful attention as they cannot allow the flour to get burnt as it represents their Goddess Kansari of the Harvest.
Waghoba or Waghya also called Waghdeo is worshipped as their Apex Diety. While it mostly refers to the Leopard, it sometimes also means the Tiger. The Warlis do not fear it but worship and respect it. In times of trouble, the Warlis worship Waghoba for relief.
Hirwa is their household god represented by the peacock. As the Warlis are mostly agricultural people the rain is an important event in their lives. The peacock is symbolic of the coming of the rain as the peacock dances just before the onset of the monsoon.
This is a wedding Invitation a Warli lady living in Aarey showed me. It has representations of all their major deities.
After the harvest, nothing is eaten before first offering it to the gods.
Liquor plays a very important role in Warli weddings. Engagement and Nuptials are solemnised only after an exchange of freshly brewed liquor.
Mashe captured many of these motifs and stories in his Art.
Mashe has been honoured with several awards for reinventing an art-form that was fast disappearing and for his vivid representation of a traditional art form for a contemporary audience.
His contribution to taking a tribal art form to the world is unparalleled.
Why must we tell our children and each other this story? The answer is simple.
Because it allows children to see and respect an alternate way of life.
Not every Temple is to Krishna or Ram.
Not every faith follows the Ten Commandments.
Not every group answers the Azaan or wears a Turban and Kada.
There are people out there who have different lives, different gods, different beliefs.
People whose faith and beliefs have perhaps been around for much longer.
It is important that we teach our children about them and instill in them the need to respect their way of life.
The story also teaches us that Art, at the end of the day, is not about big expensive paintings traded in Art Galleries for decorating living rooms. But it is a basic form of expression that resides in every human heart.
So, on this International Day of Indigenous People/Adivasi Diwas, share this story about a humble Indian Tribal Artist who lit up the World of Art.